NVIDIA GeForce GT 415M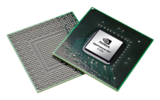 NVIDIA GeForce GT 415M to przeznaczona do laptopów karta graficzna z 2010 roku, która może być przyporządkowana do grupy słabszych układów średniej klasy. Jest oparta na rdzeniu GF108, wspiera DirectX 11 oraz OpenGL 4.0. Choć ma takie samo taktowanie jak GF GT 420M, to jest od niego znacznie wolniejsza, gdyż posiada o połowę mniej rdzeni CUDA (48). Według producenta należy jednak do kategorii Performance (w przeciwieństwie do GF 310M).
GeForce GT 400M Rodzina

Nazwa robocza
N11P-GV
Architektura
Fermi
Potoki
48 - ZJC
Zegar rdzenia
500 MHz
Zegar jednostek cieniujących
1000 MHz
Zegar pamięci
800 MHz
Magistrala
128 bit
Typ pamięci
(G)DDR3
Pamięć współdzielona
nie
API
DirectX 11, Shader 5.0
Technologia
40 nm
Technologie
Optimus, PureVideo HD VP4, Blu-ray 3D, Bitstream HD Audio, CUDA, DirectCompute, OpenCL, OpenGL 4.0, DirectX 11
Wielkość laptopa
średni
Data premiery
03.09.2010
Witryna producenta
http://www.nvidia.com/object/product-gef...
Testy
3DMark 11 - 3DM11 Performance Score